John Deere Fun on the Farm
DVD Release:
September 1, 2012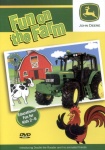 Synopsis
A fun and educational DVD for the younger set. Kids will learn where food comes from and about the growing season — planting, cultivating, and the harvest in the fall. They will see tractors and combines and lots of farm animals. Doodle Rooster narrates and is joined by Harvey Horse and Bell, the dairy cow.
Play the cloud game. Visit the Farm in the Zoo at Lincoln Park Zoo, right in the middle of Chicago. Go to the John Deere Harvester Works in East Moline, Illinois to see how Deere makes their combines. All this fun is set to nine new original songs by award-winning singer/songwriter James Coffey. Kids will love the action, tap their toes to the music, and have lots of fun on the farm.
Dove Review
"John Deere" is a big part of the farming community and this video is educational and entertaining alike for young and old. Doodle Rooster along with some friends narrates some interesting facts and history about farming, the animals, equipment and crops. Along with all the information, Doodle is accompanied by cute toe-tapping songs teaching about numbers, letters and the farm animals, and charming games about vegetables and looking for animal shapes in the clouds.
This video is aimed toward children two to six but will be enjoyed by the entire family. It is filled with real action footage of activities that are a part of everyday farm life. Kids will be intrigued by the changes that John Deere tractors have made in their long history and the many other machines that are used on a farm. The Dove "Family-Approved" Seal for all ages is awarded to this educational video.
Info
Company:
TM Books & Video