Volviendo
DVD Release:
November 6, 2012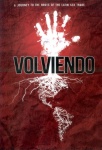 Synopsis
VOLVIENDO is a documentary that follows three filmmakers as they research for a fictional feature film about a sex slave from Latin America.

But after a dangerous trip through a dozen Latin countries, their hearts are changed by the brokenness of the victims, and their quest to make a movie becomes a compelling story within itself.
​
With first-hand interviews on the front lines of this social injustice, "VOLVIENDO" digs to the universal roots of the issue and presents a comprehensive solution that involves you.
Dove Review
This is a documentary that makes the point that sex trafficking in Latin America is a powerful industry but the film, considering its topic, is not extreme. We are awarding this insightful documentary the Dove "Faith-Based" Seal due to the sophisticated themes but this can be utilized as a powerful educational tool.
A group of young adults fictionalize a sex slave ring from Latin America but their footage and interviews are very real and the impact they make is profound. We learn about girls being kidnapped and forced into prostitution as young as the age of fourteen. We see them on the streets with short skirts and showing cleavage and they greet many "Johns" who stop by with inquiries. However, the title of the documentary, "Volviendo", means "return" and it is the filmmakers' goal to get these girls to return to a normal life. One young filmmaker talks about a girl and says, "She could be my sister, she could be my niece, and I feel powerless to do anything." Some of the figures are staggering including the fact that 16,000 to 20,000 children are sexually exploited in Mexico.
The power of pornography is explored and even one of the filmmakers tearfully confesses he endured a weak moment in which he watched porn. The various ministries which help these young women by sharing the gospel and getting them back on their feet are also highlighted. This is a powerful and potentially life-changing DVD that shows Christ as the biggest hope for these exploited souls.