Monumental
DVD Release:
March 27, 2012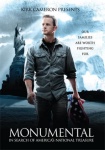 Synopsis
Monumental is the story of America's beginnings. Presented, produced, and starring Kirk Cameron, the 90-minute true story follows this father of six across Europe and the U.S. as he seeks to discover America's true "national treasure" – the people, places, and principles that made America the freest, most prosperous and generous nation the world has ever known.
Monumental is heralded as "inspiring," "beautifully executed," "powerful," and "one meant to teach."
Long regarded as "the land of opportunity," there's no question the tiny band of religious outcasts who founded this country hit upon a formula for success that went way beyond what they could have imagined. How else can you explain the fact that they established a nation that has become the best example of civil, economic and religious liberty the world has ever known?
What formula did they discover? What motivated them to come here in the first place? More importantly, how can we apply these same foundational truths today?
Dove Review
This is a powerful and compelling DVD. Kirk Cameron hits a home-run with this documentary! He visits several locations including Massachusetts, Texas, Boston and Washington, D.C. to revisit the history of the Pilgrims and their journey to Plymouth Rock on the Mayflower to begin a new life where they could worship God freely. He recounts the difficult journey and the price they paid to be free of a tyrannical king and to worship God. Kirk pointedly asks, "How do we get back to that?"
Kirk visits historian David Barton and David shares that the founding fathers never intended to separate God from government but built the foundation of the new world on biblical principles. He shares history and quotes to support his claims. He mentions the problems of modern society and suggests we need to return to the principles that at one time governed us, principles that made our nation great. He speaks to other experts including Professor Herb Titus of Harvard, who shows that the moral truths from the Bible were intended to be in our government. He also makes a point that too often Hollywood blames the church for the world's problems, the church blames the media, and political parties blame one another.
This is an awesome DVD which features history, unique perspectives from educated people with a great knowledge of history, and finally a plea for people to do what they can to encourage the morality of God's word in today's society. We are more than glad to endorse this DVD with our Dove "Family-Approved" Seal. We are recommending it for all ages although the very young might not follow it very well. This DVD is a must-see!
Info
Starring:
Presenter: Kirk Cameron
Reviewer:
Edwin L. Carpenter