Transformers Rescue Bots: Roll to the Rescue
DVD Release:
October 2, 2012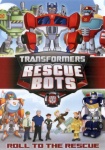 Synopsis
Griffin Rock seems like just another chunk of land floating off the coast of Maine. But if you look a little closer, you just might find more than meets the eye! Meet the RESCUE BOTS — CHASE, HEATWAVE, BLADES and BOULDER! Stationed undercover, they're given the task of protecting and learning about mankind by teaming up with a family of first responders, including a police chief, firefighter, helicopter pilot and engineer. With help from Cody, the family's youngest, the RESCUE BOTS help keep people safe, and along the way they learn what it really means to be a hero!
Dove Review
The "Transformers Rescue Bots" DVD is a collection of six episodes that bring the Transformers to the Island of Griffin Rock. As they meet the family that they will be working with, they all have to learn how to work together to protect the island from dangerous situations. Cody is the youngest of the family and feels left out until he becomes the person to teach both his family members and the robot how to become aware of the differences each have, so they can be heroes together as a team.
This is an adventurous DVD about friendship, team work and getting along with others who think differently about things. It is one that the entire family will enjoy. We are proud to award the "Transformers Rescue Bots: Roll to the Rescue" DVD the Dove "Family Approved" Seal for all ages.
Info
Company:
Shout! Factory / Hasbro