October Baby (Novel)
Book Release:
September 1, 2012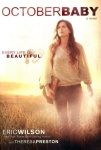 Synopsis
Not long after Hannah, a college student, experienced increasing anxiety and a sudden collapse, all signs pint to the surprising circumstances of her birth. Hannah soon learns from her parents that she was adopted and is the survivor of a failed abortion attempt.
Bewildered, angry, and confused, she turns to her oldest friend, Jason, for support. Encouraged by his adventurous spirit, Hannah joins his friends on a road trip, embarking on a journey to discover her hidden past and find hope for the unknown future.
Along the way, Hannah finds that every life is beautiful, and that life itself can be so much more than what we might have planned.
Based on the popular movie of the same name, October Baby brings to life powerful themes of hope, love, forgiveness, and redemption.
Dove Review
"October Baby" is an inspiring coming-of-age tale. Hannah has always felt like a misfit, as though a piece of her is missing. As a blossoming actress, she finds herself most comfortable on stage where she doesn't have to fit in or figure out what's expected of her. Yet, even on stage she can't seem to shake the overwhelming anxiety and depression.
Hannah's best friend Jason has always been there for her. As she seeks answers to her health concerns, he stands by her side even when it costs him personally. Hannah unravels the mystery of her life and discovers twists and turns she didn't expect. She finds the truth her parents have tried for years to protect her from: that she is adopted and was an abortion survivor.
As Hannah journeys through the process of discovering who she really is, a cast of memorable friends, each with his or her own history to deal with, travels with her. In the end Hannah has a choice to make, and forgiveness becomes a strong theme in the book. Her choice to forgive those who played significant roles in her pain, both past and present, turns everyone's lives upside down. Hannah discovers that "only in forgiveness can you be free."
Although abortion is a central theme in this book, it isn't just a story about abortion. Hope, love, loyalty and forgiveness are just as important in this tale. The writing doesn't come across as preachy. Rather, the narrative drives the themes in this book and makes it a "can't put it down" story. Whether or not your life has been touched by abortion, you will relate to the journey of discovering who you are and what your purpose is.
Discussion questions at the end of this book make it perfect for small group or book club discussion.
Because of the mature themes, we are pleased to award "October Baby" the Dove "Family-Approved" Seal for ages 12 and above.
Content Description
Violence:
Man calls the clinic and makes threats including a bomb scare; girl writes suicidal thoughts; girl mentions her dad's tirades and violence from alcoholism, no descriptions given
Sex:
Girl imagines what it would be like if boy kissed her; boy describes girl as "hot"; Boy and girl hold hands several times innocently; women recalls one night stand ending in pregnancy; boy and girl have to share hotel room, nothing happens; boy and girl mention their virginity; boy and girl kiss and embrace; wife kisses husband on cheek.
Violence:
Man calls the clinic and makes threats including a bomb scare; girl writes suicidal thoughts; girl mentions her dad's tirades and violence from alcoholism, no descriptions given
Drugs:
Prescription medications for health and mental issues taken; Girl uses and inhaler several times as prescribed; Discussion of a girl's father who was an alcoholic; man remembers drinking binge and resulting sickness next day; Boy orders drink at bar, friends advise against it, has hangover next day.
Other:
A scene takes place inside an abortion clinic, with vague descriptions of what takes place; girl has nightmare of being hurt by storm or animal, this happens a few times in book; Boy tries unsuccessfully to con people into buying fake tickets from him; girl has seizure; girl learns she is an abortion survivor; boy admits to having fake identity online, is later caught; girl meets counselor to discuss depression, anxiety, suicidal thoughts; vague discussion of "terrible" things at abortion clinic; short description of birth after failed abortion attempt, one baby born without an arm, baby born alive, in pain, later dies; girl tells how she was pregnant and boyfriend forced her to get abortion, and resulting hatred for herself; woman shares about miscarriage and resulting depression.