The Last Martin (Novel)
Book Release:
May 1, 2012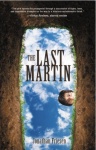 Synopsis
Thirteen year-old Martin Boyle, the most fearful hypochondriac born into a family of worriers, doesn't want to visit the family cemetery. Truth is, none of the Boyles are thrilled about the annual trip to visit their war dead. It shames Mr. Boyle to think of his once courageous family line, and Mrs. Boyle is certain the greenish moss growing on the headstones carries disease. But after strict no-touch warnings from Mrs. Boyle (and an anti-bacterial scrub down), Martin ventures into the private cemetery for a grim remembrance. He's surrounded by stones that bear his name. Martin, the Boyle family name, has been given to the firstborn male in each Boyle household for centuries. While his father offers a speech honoring Martins who have gone before, Martin wanders among his ancestors. The writing on the old headstones is hardly legible, and he scratches at birth and death dates with a stick. His analytical mind gravitates toward the numbers, and his stomach sinks. The pattern is clear: Martin 1770-1819. Martin 1819-1835. Martin 1835-1899. Martin 1899-1956. Martin 1956-1996. There's always a Martin. Only one Martin. Martin panics. Not because he was born in 1996—that only fits—but because his uncle and aunt are expecting their first child, a boy, in three months. Tradition dictates they will name him Martin. He's seen the graveyard. He has proof of the curse. When the next Martin is born, he'll die. Martin's parents believe the cemetery pattern is a coincidence, and a sign that their son needs professional help. It's a belief that's about to get stronger because their son, with the help of a homeless boy named Poole, is about to make his first decision of consequence: with twelve weeks until the baby's arrival and no time to waste, Martin chooses to live. Little does he know that the key to his survival—the cornerstone of the curse—lies embedded beneath two hundred years of history, in an inscription that dooms the entire Boyle family line.
Dove Review
"The Last Martin" is a fast-paced and quirky story of growing up, discovering your independence, and learning to truly live.
When Martin Boyle concludes that his name is cursed and he has only weeks to live, his entire world is altered. Long an outsider at school and perpetually worried due to the influence of his hypochondriac mother, Martin finds his pending demise a source of dread, but also a catalyst for dramatic changes. In short, in the face of death, Martin begins to learn what it means to live—but will that prove a lesson that comes too late?
Jonathan Friensen grabs the reader's attention from the start, and the pace hardly lets up through the next 266 pages. The book is written from Martin's perspective so it takes a bit before the various elements of the story come together clearly, but once they do it is a worthwhile adventure. Medieval knights battle, friends are made, crushes blossom, wars are reenacted, and all the while death edges ever closer. Touching on themes of fate, friendship, family relationships, and navigating the difficulties of school life as a teenager, I found "The Last Martin" to be a fun read and a strangely inspiring tale.
Info
Company:
Zondervan Publishing House
Industry Rating:
YoungAdult