Aldos Fantastical Movie Palace (Novel)
Book Release:
August 1, 2012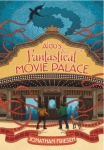 Synopsis
The family's broken-down theater has always been a safe place for Chloe. There, no one can see the scars that line her face—scars her inventor father accidentally caused, leaving even deeper wounds between them.
In the darkness she meets Nick, a boy with his own hurts. While Nick isn't the most pleasant companion, a rocky friendship is formed over their love of films. Soon the two are working on a movie script about a fantastical world—one that suddenly comes alive on the screen. Chloe and Nick are transported into an adventure beyond what they ever imagined, filled with dragons, magical pools, and a sinister vapor that threatens to destroy everyone. But when tragedy strikes, Chloe must find the courage to step out of the shadows and find what she's always longed for.
Dove Review
Chloe loves the family's movie theater because when she is there no one can see her scars, which her father accidentally caused. Her father's shame causes even deeper wounds in their relationship. When she meets a new neighbor who is blind, they definitely do not like each other but their shared work on his movie script about a fantasy world leads to an adventure into that world.
This book seems to be influenced by a touch of Narnia and a lot of Alice in Wonderland, as well as current stories filled with dragons and other fantasy ingredients. The author's attempt at making thoughtful observations about beneficial concepts such as inner beauty are obscured by too many confusing and unexplained connections between events in the fantasy world and the real world. Characters go from one disaster to another but leave too many loose ends. An acceptable tale for young readers looking for adventure.
Info
Company:
Zondervan Publishing House