Woofi: The Lost Sheep (Illustrated)
Theatrical Release:
November 1, 2012
Book Release:
November 1, 2012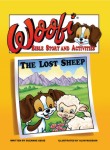 Synopsis
In this latest adventure from " Woofi the Missionary Puppy," Woofi finds himself working with a shepherd watching over a flock of sheep. When one of the sheep goes missing, Woofi and the shepherd must race against time to find the missing lamb.
This imaginative re-telling of the Shepherd and the Lost Sheep from Matthew 18 makes the story come alive for young readers while reminding them that their Heavenly Father is always constantly watching over them as well.
Dove Review
From the Woofi series, this book takes you on an adventure with Woofi, the shepherd and the flock of sheep. It is much more than just a story book, filled with a great faith based story, Bible verses, discussion questions and fun activity pages for your children.
Our cuddly puppy, Woofi, realizes that a little lamb, Woolzee, becomes lost. Woofie and the shepherd have to find him before something happens to the cute bundle of wool. Just as the shepherd and Woofi look for the lost lamb so does our Lord search for his lost sheep of the fold. We are proud to award this book the Dove "Family-Approved" Seal for all ages.
Info
Company:
Because We Care Ministries