Hopeful Notes
DVD Release:
January 8, 2013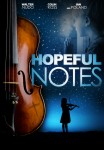 Synopsis
A young violinist with leukemia brings hope and life into a desolate Russian hospital for children."
Dove Review
This is an amazing film about some amazing people. The plot centers on cancer-stricken kids in a hospital in Russia who are running low on hope, until a man named Alex comes into their lives. Alex encourages the musical ability of the kids and a young boy, Misha, plays a violin for a girl in a coma. The supervisor of the hospital, Olga, is known as "Stalin" and makes the kids quit playing. However, both Nurse Elena and Alex suspect she has a soft heart below her tough exterior and while she is gone raising funds for the hospital, they get the kids involved in painting the walls and planning a concert in the auditorium below, as the hospital was once a Conservatory.
The kids face a few low moments including the loss of a friend, but they persevere and find hope in some unlikely places and with the help of some unlikely people. The movie features a touching scene of a dying girl "marrying" the young man she loves in an emotional "wedding" scene. She is his princess and he is her prince according to her. This inspirational film will stir and move you and we gladly award it our Dove "Family-Approved" Seal for ages twelve plus, due to a few sophisticated themes. This one is very worthy of the five Doves we are awarding the film.
Info
Industry Rating:
Not Rated
Reviewer:
Edwin L. Carpenter