Ghost of Greville Lodge
DVD Release:
November 3, 2009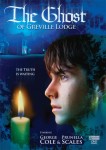 Synopsis
Teenager James Greville has lived in children's homes for nearly nine years: ever since his parents died when he was six years old. So it comes as a shock to find that a distant family member has traced him, and invited him to his home. So begins James' trial two-week holiday at his Great Uncle's (George Cole) country manor: Greville Lodge. James spends most of his time alone exploring the sprawling Greville Lodge and soon discovers that the Lodge has many secrets, including doors to the west wing which have been sealed shut. Once night James wakes up to find himself in front of one of the doors and this time it opens! Through the doors, the mysteries of Greville Lodge are revealed.
Dove Review
Yes, it is a ghost story but one which has a strong moral message: that people can be noble beings and sacrifice themselves for others, and that we often are harder on ourselves and unforgiving with ourselves while being willing to quickly forgive others. In a nice scene prayer is offered over a meal.
James Greville comes to Greville Lodge to spend time with his Great Uncle and begins to experience life in the past, during World War ll, and encounters a grave digger named Billy. Much of it doesn't make sense at first to James but he soon begins to put the pieces together and he realizes that there is more to this visiting apparition than it just attempting to scare him. The ghost has a message for him which he needs to hear.
Although this movie might not be for everyone, it features an interesting plot along with moral themes such as forgiveness and sacrifice as well as the importance of loyalty. The ghost story is featured but in the way "A Christmas Carol" features spirits. The ghost appears for the good of one of the characters. Due to its focus on these themes and the strong friendship of several characters, we are recommending this movie for ages twelve plus and recommending that parents consult the content listing below to make their own informed decisions. This one will make you think!
Content Description
Other:
A character dreams about a flash of fire; an object falls near a character and it is unclear if this was an accident or caused by a ghost; a character falls from an attic but falls safely on shrubs; a character hears noises such as a horse and the radio begins to play and suddenly it is the past; a character plays a piano by candlelight and the wind blows out the candle or was it the ghost? Bulbs fall off a Christmas tree for no apparent reason; time travel; a girl is swatted on the rear by adult as a correction; a character is trapped in a fire; death and grief.
Info
Company:
VCI Entertainment
Producer:
Noel Cronin & Emma Parker
Reviewer:
Edwin L. Carpenter