Legend Of Kung Fu Rabbit
DVD Release:
September 24, 2013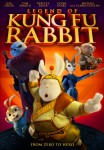 Synopsis
Fu, a dopey rabbit, is telepathically given the ultimate Kung Fu power after rescuing Shifu, a martial arts master, from a fatal attack with the promise that he, Fu, would return the martial arts academy tablet to his, Shifu's daughter, Penny. While on his journey to the academy thieves ambush Fu and unbeknownst to him rescued by Penny. As they become traveling companions they arrive at the academy only to learn it has been taken over by the evil Slash. As Penny takes Slash on in a kung fu showdown to get back her father's academy Fu will reveal his power and take Slash down while fulfilling his promise.
Dove Review
The animation and colors of this movie are vivid and terrific! Visually, it is fantastic as even the lighting and shadows stand out, in both indoor and outdoor scenes.
This film shows that sometimes a simple character that is trustworthy can do the most good. Shifu, a martial arts master, entrusts Fu, a large rabbit, with a tablet to give to his daughter Penny. This will be evidence of her inheritance as Shifu knows his time on Earth is short. Fu has a lot to learn and various characters help along the way, including a small rabbit named Biggie. Shifu has passed his Kung Fu powers on to Fu, but Fu must believe in himself before he can use them to the fullest. And he will need them as a certain evil Panda Bear has his designs on the kingdom and usurping great power.
While the film has several scenes of fantasy violence involving animal characters, there is a lot of fighting, use of weapons, characters being hit on the head with objects, falling, and so on in this movie. For this reason we are recommending it for ages twelve plus. The characters are memorable and the theme of loyalty is not to be missed in this movie!
Info
Industry Rating:
Not Rated
Reviewer:
Edwin L. Carpenter