The Adventures of Scooter the Penguin
DVD Release:
October 9, 2012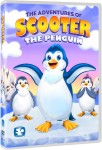 Synopsis
Featuring lessons of acceptance, honesty, teamwork and understanding, THE ADVENTURES OF SCOOTER THE PENGUIN is a new CG animated family-friendly feature in the tradition of The Penguins of Madagascar and Ice Age. Scooter is a unique little bird from a lost colony of penguins known for their amazing speed and strength. Abandoned before he was even hatched, Scooter is taken in by a family of silver penguins who encourage his talents. Still, Scooter feels like he doesn't belong. It is not until he learns lessons of love and self-worth that he returns to his village and saves the day.
Dove Review
The animation in this awesome movie is bright and vibrant and colorful, especially of the adorable blue penguin known as Scooter. An egg is left in the earth following an earthquake in Antarctica and many years later a professor penguin finds the egg. It soon hatches to reveal a young blue penguin that the professor names Scooter.
Scooter saves some lives and proves to be a powerful swimmer. He makes friends easily but also an enemy with another fine swimmer penguin named Butch, who is used to being the main bird in Sunny Sky Village. Soon Scooter finds he must prove himself as he enters a swimming race.
This wonderful DVD is Dove approved and receives our Dove "Family-Approved" Seal for all ages. Join Scooter on his DVD adventure soon.