Adventures of Bailey: Christmas Hero
DVD Release:
November 6, 2012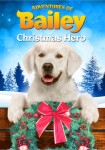 Synopsis
It's Christmas time at the Baker household, and Bailey is at it again. Worried that he will not get any presents from Santa, Bailey learns about a mysterious Native American Indian brave who may be able to make his Christmas wishes come true. But when Bailey's misguided actions threaten his family's plans, Bailey is forced to make a big decision…one that just might enable him to finally understand the "true" meaning of Christmas.
Dove Review
This movie is for the family! This is a wholesome story about two dogs, Duke and his younger brother Bailey, whose thoughts can be heard. They belong to a family consisting of Mom and Dad, Truman and Abbi and Madison. However, at Christmas, of all times, they are separated from their family and search for their way back home. Will they make it back home in time for Christmas?
An Indian chief, called Handsome Fellow, has been said to grant one wish for the person who finds him. When found, the chief exalts Christ and mentions the "White Way" which is, according to the chief, giving of one's self, even giving away presents to someone you love.
This is a cute family movie with a message of giving. We are glad to award it our Dove "Family-Approved" Seal for all ages. See this one soon. The ending just might put you in a good mood for the rest of the day!