Young Pioneers Christmas
DVD Release:
September 25, 2012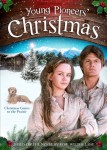 Synopsis
It's 1874 on the plains of the Dakotas and young couple Dave and Molly (Linda Purl) have just lost their first born son. Overcome with grief, they seek support from their kind-hearted neighbors— Mr. Peters and his children, Nettie, Flora and Charlie, as well as bachelor Dan Gray. The friends stick together through thick and thin, standing up for each other when poverty and railroad expansion threaten their livelihoods. As Christmas approaches, they each prepare a special gift and join together for the most memorable of all celebrations.
Dove Review
In 1874 life was rough for young pioneers in the Dakota's. Dave and Molly lost their first-born child and each keeps their grief to themselves instead of working through it with each other. So they help their friends and neighbors though tough times, for example the railroad taking land and a family without a woman as the head of the household. Together the group aids each other.
This story brings a message of friendship, helping others in time of need and how important it is for a couple to work out their grief together. The latter is very important because grief is a hard thing when there is a loss of a child. Couples need to talk together and not bottle it up inside. "Young Pioneers Christmas" is a tale of a time in history that we can learn from and the movie is entertaining. It is a timeless story that shows how Christmas is a great time for healing, family and friends. We award this DVD the Dove "Family-Approved" Seal for all ages.
Info
Company:
Echo Bridge Home Entertainment
Industry Rating:
Not Rated
Starring:
Linda Purl
,
Roger Kern
,
Robert Hays
,
Kay Kimler
,
Robert Donner
,
Britt Leach
,
Arnold Soboloff
,
Brendan Dillon
,
Rand Bridges
,
Brian Melrose
,
Sherri Wagner