Genesis 7: Episode 1 – The Mission
DVD Release:
August 14, 2012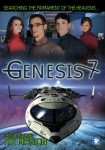 Synopsis
Take an out-of-this world journey with the space program of the Future! In a tradition of "The Magic School Bus" this adventure-filled series educates young space cadets about the solar systems as it follows the Genesis 7 spacecraft and its lander fondly known as "Little G." Piloted by Lt Donton Andrews the command of his uncle, Captain Enoch Andrews, and the captain's niece, imaging specialist Priscilla Andrews, the craft embarks on a year-long examination of the solar system. Throughout their fact-finding mission, communications specialist Lt. Abby Jennings and her ground crew work hard from Genesis Command to ensure their success.
On the maiden voyage of the Genesis 7 everyone is excited to see God's creation as never seen before. Their initial goal is to test all of the new systems in space and map the atmosphere of Earth, but soon the call comes in from Genesis Command to proceed to the moon and touch down on the lunar surface to look for water. However, shortly after they begin to drill, a gravitational anomaly affects the orbit of a piece of space debris that poses a serious threat both to the mission and Donton's life!
Dove Review
The "Genesis 7" series is an adventurous journey into the Heaven that God created. This series combines education and faith into a journey that everyone will enjoy. As two young cadets join their uncle on a space travel of the solar system, they relate a connection of their faith and God's word to the adventure they embark on.
In Episode one of Genesis 7, the viewer learns some things about the trio's family background. Also on the journey into space they relay many facts about earth, the moon and the space that lies between the two. Donton, Enoch, Priscilla and Lt. Abby also discuss the creation of the heavens and earth along with their strong faith in God.
This is an interesting series for everyone in the family. We award this DVD the Dove "Family-Approved" Seal for all ages.
Info
Company:
Bridgestone Multimedia Group