Genesis 7: Episode 3 – Unexpected Return
DVD Release:
October 9, 2012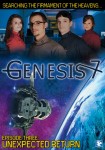 Synopsis
After an explosion near the sun wounds Donton and the craft, Genesis Command orders the crew home for an Unexpected Return. Back on Earth, Admiral Croft and his daughter, Aurelia, discover a suspicious mechanical part that may have triggered the craft's malfunction. While Donton tends to his injuries, Enoch swings by a friend's garage to pick up his prized Corvette and escort Lt. Abigail Jennings to a surprise picnic. The excitement builds as Enoch, Donton, and Priscilla prepare for the next leg of their mission, a trip to Venus, where Donton will undock "Little G" and touch down on the surface to collect samples. Re-boarding their repaired craft is bittersweet, but as Enoch reminds Abigail, "God is in control, and He is good in everything."
An imaginative series told in the tradition of The Magic School Bus, Genesis 7 combines suspenseful plots and computer animation to explore the solar system with a Christian worldview. "Unexpected Return" includes bonus educational materials and the inspiring message that all things are possible with God!
Dove Review
"Genesis 7" series is an adventurous journey into the Heaven that God created. This series combines education and faith into a journey that everyone will enjoy. As two young cadets join their uncle on a space travel of the solar system, they relate a connection of their faith and God's word to each adventure they embark on.
In Episode 3 the space travelers head home due to the unfortunate incidents that occurred in their last mission to the sun. The discussion on earth is one of the mechanical malfunctions that may lead to someone trying to sabotage the mission, a time of healing for Donton and a little R & R for Enoch and Abigail. But above all, God is in control of all their lives as they embark on the new journey that takes them to Venus. We award the Dove "Family-Approved" Seal for all ages to episode 3 of Genesis 7.
Info
Company:
Bridgestone Multimedia Group