Abels Field
DVD Release:
January 22, 2013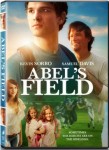 Synopsis
In the wide-spot-on-the-highway town of Sinai, Texas, football reigns. But high school senior Seth McArdle (SAMUEL DAVIS) has little time for it. With his mom passed away and his dad run away, Seth works hard to support himself and his young twin sisters. A run-in with kings of the football field lands Seth after-school labor as punishment. There he meets Abel Adamson (KEVIN SORBO), a taut, bitter stranger working part time as the school groundskeeper.
Each resentful of the other at first, a grudging respect grows between Seth and Abel: respect that gives way to understanding, and eventually Seth finds a mentor and Abel a friend. Just as everything appears to be going well — steady work for Abel and the attention of a girl at school for Seth — trouble looms.
Dove Review
Life is sometimes overwhelming when the choices we make in our life are not always our own and we forget how to ask for help. This faith based story fits in this category. Seth is trying to go to school, work, raise his young sisters and save their home, which is a lot for a young man in high school. He also deals with the football team who bullies him and a coach that thinks the worst of him whenever anything happens. But when Seth has to help Abel with the sprinkles for football field both Seth and Abel find out about the help they each are looking for within themselves.
This movie is one of emotions and choices that we all make with what is handed to us in our lives. Seth is a young man that has taken on the role of mother, father and breadwinner while still in high school. While Abel is a man looking for redemption within himself from things that happened in his past. The two have faith but not in themselves or letting God truly help them until they realize that the only way to make it through is to be honest with God and he will help them. Abel's Field is a entertaining story of redemption, making choices and faith. Aimed at an older audience, we award this movie with the Dove Family-Approved 12+ Seal.
Content Description
Violence:
Truck almost runs over girls crossing the street; boy throws an apple at truck, boys bullying another; two boys fighting in school; boys ganging up on one boy in a fight; man pushes boy against a wall; man grabs boy by throat; young men try a robbery; man tells that he killed is brother
Violence:
Truck almost runs over girls crossing the street; boy throws an apple at truck, boys bullying another; two boys fighting in school; boys ganging up on one boy in a fight; man pushes boy against a wall; man grabs boy by throat; young men try a robbery; man tells that he killed is brother
Drugs:
Bar scenes; police officer in uniform having a drink in bar; drunken man in garage; football coach drinking scotch in bar;
Info
Company:
Sony Pictures Home Entertainment