12 Dogs of Christmas: Great Puppy Rescue
DVD Release:
October 9, 2012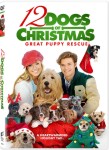 Synopsis
In this heartwarming sequel to the holiday classic, Emma (Danielle Chuchran) rallies her friends new and old to save a beloved puppy orphanage by putting on a musical holiday extravaganza.
Dove Review
Emma returns to Doverville for a funeral of her friend Mike's mother, but due to an unforeseen accident she has to stay. To help Mike through a tough time and save what his mother wanted most from a man that wants to destroy it all, Emma along with friends turn the little play they did as children into another holiday celebration to save the day.
"12 Dogs of Christmas: Great Puppy Rescue" is a wonderful addition to anyone's holiday DVD collection for the family. This is a charming story that extends the 12 Dogs of Christmas in a new direction. With the setting of the 1930s as a background, everyone will love the old cars, the thought of traveling by train and a holiday musical. It is a movie filled with fun, comedy, friendships, animals and other things that will entertain everyone young and old alike. The only problem I had with this movie is that the person that portrayed Bing Crosby did not come close to looking or sounding like the great crooner. We are proud to award the Dove "Family-Approved" Seal for all ages.
Info
Company:
Sony Pictures Home Entertainment