Mysterious Museum
DVD Release:
October 16, 2012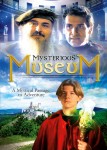 Synopsis
Siblings Ben (A.J. Trauth), Kim (Brianna Brown) and Casey are spending their Saturday afternoon at the museum. Easily bored, Ben has trouble paying attention to the art…until he notices that a painting of a village is actually smoking! When he reaches out to touch it, he is magically transported into the 17th century. Kim follows, and soon the brother and sister duo are deep into an adventure that involves an evil sorcerer named Falco, a powerful jewel and the help of a novice magician. As Casey does her best to get Ben and Kim home, it looks like they won't be going anywhere until they can save the village from Falco's terrifying reign.
Dove Review
This special-effects laden movie has a simple message; that a family can overcome obstacles and that there truly is no place like home.
A character is sucked into a painting of a magical world. His sister soon follows and they find themselves fighting evil in the form of Falco, a sorcerer. Sibling Casey attempts to get them both back home but Ben and his sister Kim will first have to complete their journey in this fantastic world before they can return to the safety of their home. Although the evil Falco uses his powers, this is obviously a fantasy story and fantasy world.
We are pleased to award our Dove "Family-Approved" Seal to this movie for ages twelve plus due to one strong utterance of language and the sorcery and magic scenes.
Info
Company:
Echo Bridge Home Entertainment
Reviewer:
Edwin L. Carpenter