Saved By Faith
DVD Release:
November 13, 2012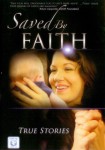 Synopsis
"Saved By Faith" is an inspirational faith-based television series telling real stories of life and death situations where divine providence miraculously saved a life.
Dove Review
These three true-stories of faith are amazing!
The first story has to do with a man named Dean whose hand is caught in farm equipment and when he loses a thumb it is replaced with his toe. It is a lot to endure but his wife Michelle goes through things right along with him, including Dean experiencing a serious infection. Good definitely comes out of the sorrows as Dean becomes a trained physician and works alongside the doctor who saved him.
In story two a young mother named Heather endures her baby having RSV, a respiratory illness which can cause death. Little Carter is her son and he occasionally quits breathing. During one experience a voice inside told her to go check on her son and he had quit breathing. She takes him to the emergency room and he survives. Heather will not give up on her son's survival and the young boy was nicknamed "Little Rambo" because he was such a fighter. The story finishes up with Carter at age nine. Viewers might need some Kleenex for this one.
The third story is about Tatia and her daughter Kia, age two. The mother has a rare disease and she passes out sometimes four to seven times a day. Little Kia is in danger due to the mother's sudden attacks of illness and the mother passing out. Kia gets Tatia's friend to rescue her at one point and the wonderful ending is amazing.
Due to a few of the sophisticated themes, we are recommending the movie for ages twelve plus and we are very pleased to award it our Dove "Family-Approved" Seal. This film will encourage you to keep hope alive!
Info
Company:
SunWorld Pictures
Industry Rating:
Not Rated
Reviewer:
Edwin L. Carpenter