The Nothing
DVD Release:
November 6, 2012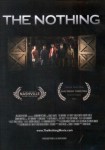 Synopsis
"The Nothing" tells the story of Ren Dubbin, a man struggling to reconcile his spiritual beliefs with his crippling fear of the unknown. He awakes to find himself in an eerie, ramshackle barn with four strangers. The men have no idea where they are, and no memory of how they got there. The mystery turns to desperation when they open the doors to find the barn floating in an endless expanse of emptiness and total darkness. Nothing.
The oppressive nothingness outside and bizarre events inside bring to light the men's deepest fears, doubts, failings, and beliefs. And when their situation appears to grow hopeless the men turn to reflections on life and death, faith, God and — ultimately — the afterlife.
Dove Review
This movie reveals how a person can make mistakes and then blame God for it, and yet find forgiveness in the end.
Ren Dubbin is a man who cheats on his wife and later realizes his mistake, but not after first blaming God for the consequences, especially when his wife moves out on him. He questions why God allows suffering and wickedness but he makes peace by the conclusion and realizes he needs to forgive himself as well as accept God's forgiveness for his sins.
This theme of making peace and moving on after mistakes and failures makes for a powerful viewing experience. Although we believe the content is fairly tame the subject matter is serious and involves a man cheating on his wife so we are recommending the DVD for ages twelve plus. The message of change and forgiveness is a theme worth the viewer's time. We are pleased to present our Dove Seal to the DVD.
Info
Company:
Crown Entertainment
Industry Rating:
Not Rated
Reviewer:
Edwin L. Carpenter