El Milagro de Marcelino Pan y Vino (2012)
Theatrical Release:
October 26, 2012
DVD Release:
March 12, 2013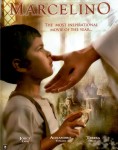 Synopsis
Marcelino is a heart-warming tale of an orphaned boy caught in the midst of the Mexican revolution. The story begins as the friars of a poor war-ravaged monastery find an infant abandoned on their doorstep. Having nowhere to turn to in the wake of war, they decide to raise him in the monastery. The child grows into a rambunctious boy, fond of playing jokes on the friars with his best friend, Eleuterio. Marcelino yearns for a mother as he observes the deep bond Eleuterio shares with his mother. Marcelino's curiosity leads him to the attic of the monastery; the one place he was warned never to go to. While in the attic, he is drawn to a statue with a face so full of love that he is compelled to visit it often. Marcelino is too young to realize that it is a statue of Jesus. Thinking the statue looks hungry, he sneaks bread and wine into the attic and offers it to the statue. Because of the faith of the child, an unexpected miracle occurs.
Dove Review
This movie is an inspirational story based on real-life events. Mark Hernandez is terrific as young Marcelino, a boy who was left as an infant with monks to raise. He finds a spot in all of their hearts as he gives them all names based on occupations such as Bro. Door (door keeper) and Bro. Garden. Marcelino occasionally finds some mischief to get into but his love for the brothers is genuine and the only thing seemingly missing in his life is the mother that he never knew.
When he begins going to the attic with bread and wine and is overheard having conversations the monks wonder if he is drinking the wine. They soon see a miracle with their own eyes as they learn who it is exactly Marcelino is communing with. And in the end, Marcelino sees his greatest wish granted. We are more than happy to award this remarkable film our Dove "Family-Approved" Seal for ages twelve plus, due to some violent moments but the film's emphasis is on faith. This one will inspire the viewer to believe in miracles!
Info
Company:
Mission Pictures International
Industry Rating:
Not Rated
Reviewer:
Edwin L. Carpenter