Chuggington: Safari Adventures
DVD Release:
February 12, 2013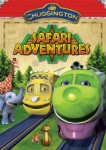 Synopsis
Honk Your Horns For The Ultimate Safari Adventure!
In these six episodes – plus a bonus Badge Quest episode – Koko helps out a pack of playful squirrels, Brewster investigates banana thieves at the Safari Park, and Wilson hauls a mischievous elephant to its new home. There's monkey business with Zephie, a royal visitor for Mtambo and jungle camouflage, too. With good friends and helpful adults like Puffer Pete, Eddie and Dunbar, your own little trainees will learn all about problem solving, working together and being patient with the animals, in this collection of fun-filled Safari adventures!
Dove Review
The charming Chuggington trains are here to entertain your youngsters in another colorful collection of seven episodes. As the group of trains chug along they teach some important value to our little ones. In this group the trains meet some interesting animals that take them on fun filled adventures. As always, with the help of friends and by working together they keep things right on track.
We are proud to award this DVD the Dove "Family-Approved" Seal for all ages.
Info
Company:
Anchor Bay Entertainment