Summertime Switch
DVD Release:
June 4, 2013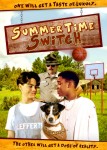 Synopsis
Frederick Egan III (Rider Strong) is the snobbish, spoiled son of one the wealthiest men in the world. Freddie Egan (Jason Weaver) comes from the other side of the tracks, picking pockets and fast-talking his way out of trouble. But when the boys get mixed up while shipping off for the summer, their lives intertwine in an unexpected way. Now Freddie is getting a taste of luxury at a high-class summer camp while Frederick gets a dose of reality at a boys' detention center. There are non-stop laughs and endless fun when Freddie and Frederick walk in each other's shoes in a wild and crazy Summertime Switch.
Dove Review
This is a terrific movie which illustrates very well that change is possible! A con learns how to be honest and a rich boy learns not to be spoiled. Two boys with the same name are sent to the wrong place. The rich boy is accidentally sent to a boy's detention camp for troubled boys and "con" Freddie is sent to the luxurious camp across the lake. He gets to stay in the "Reagan" suite!
The theme is that honesty is the best policy and that we can learn from one another. Due to a few utterances of language we are recommending this movie for ages twelve plus and we are pleased to award it our Dove "Family-Approved" Seal. This one will entertain you as well as make you think!
Content Description
Language:
G/OMG-2; D-1; H-1; Slang use of "Rat's butt"-1; Loser-1; Jerks-4; Dimwit-1; Moron-1; Suck-1; Creep-1; Butt-1; Pig-1
Nudity:
Cleavage; beach scene with bikinis and swimwear; shirtless men; man in boxers; bare midriffs.
Info
Company:
Echo Bridge Home Entertainment
Starring:
Rider Strong
,
Jason Weaver
,
Richard Moll
,
Teresa Ganzel
,
Soleil Moon Frye
,
Barry Williams
,
Nicole Leach
,
John Steven Jones
,
Tighe Swanson
,
David Tom
,
Isaac Lidsky
,
Patrick Renna
,
Casey Sander
Reviewer:
Edwin L. Carpenter