Picture Perfect
DVD Release:
March 5, 2013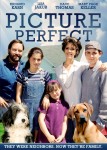 Synopsis
Neighbors Alan Walters and J.J. Thomas (Lisa Jakub) are best friends, but their single parents (Mary Page Keller and Richard Karn) despise each other. Their relationship completely changes though when the two scheming teens enter their combined households in a contest to be Barrett Soda's new spokes family. To their surprise, they are selected as finalists and Mr. Barrett himself (Dave Thomas) comes to stay with them for a week to see if they qualify for the grand prize. Now Alan and J.J. must clue their families in to the scheme and move in together if they want to pull off the charade. As they try to keep up the hoax, the Walters-Thomas clan begins to morph into something much more than they ever imagined.
Dove Review
It isn't exactly the "Brady Bunch" but "Picture Perfect" does combine two families for an interesting movie and it illustrates nicely that people can change. When a couple of teens work their plan to combine their two families as one in order to win a contest, to be the new Barrett Soda's spokes family, it is a bit turbulent at first, especially since the dad, George, and the mom, Vicky, don't like each other. However, George sleeps on the bedroom floor and the hoax is on. Ultimately the two adults and kids find they work much better together than separately.
This film contains humorous moments with likable leads (Richard Karn and Mary Page Keller). And they do what is right in the end. We are pleased to award this movie our Dove Seal for ages twelve plus although parents should consult our content listing and they may be fine with their kids who are a bit younger watching the film.
Content Description
Sex:
Kissing between a couple; a couple "pretends" to be married and are not but the man sleeps on the floor and not with the woman; a woman supervisor threatens she won't help a man at his job unless he dates her.
Info
Company:
Echo Bridge Home Entertainment
Reviewer:
Edwin L. Carpenter