Legend of Ruby Silver
DVD Release:
October 16, 2012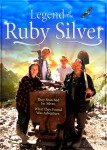 Synopsis
Recently widowed Kay Rainie and her son, Matt (Jonathan Jackson), are struggling to make ends meet. But when a stranger named Tommy (John Schneider) comes to town to take a shot at the abandoned mine, Ruby Silver, he presents Kay with an offer she can't refuse—come to the camp and cook for the crew and he'll pay her what she needs to get back on her feet. Kay, Matt, Tommy and a haggard old drunk, Bill McClean, pack their bags and head to the shaft to get to work. But when Ruby Silver doesn't produce as they expected, it looks like pay day isn't going to happen. And as the dangers of the mine become more and more real, they might have to decide between their livelihood…and their lives.
Dove Review
This is an entertaining movie with terrific themes, such as a boy becoming a man. Jonathan Jackson plays a widow's son named Matt. A stranger comes into Matt and his mother's life, a man named Tommy Towne (John Schneider), who wants to get a long-closed silver mine up and running again. Matt's mother, Kay Rainie (Rebecca Jenkins), is against the idea of becoming involved but Tommy convinces her to allow Matt to help out and she becomes the cook. In addition a man named Bill McClean (Bruce Weitz) helps out as he is the only miner and he becomes a father-figure to Matt. John Schneider and the rest of the main cast are all excellent in the movie.
Tommy has used up all his money and the gang is near the end when some good fortune comes along. However, the question soon becomes whether the good streak will mean more wealth for all of them, or if Tommy will give in to the temptation to fatten his own pockets.
In addition to the coming-of-age story of Matt, the film features themes of remembering loved ones who have passed on, treating people fairly, and that people who mistreat others wind up paying a price for it, one way or another. We are pleased to award our Dove Seal to this movie for ages twelve plus.
Info
Company:
Echo Bridge Home Entertainment
Industry Rating:
Not Rated
Reviewer:
Edwin L. Carpenter