Young Pioneers
DVD Release:
October 16, 2012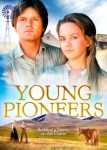 Synopsis
Young and in love, David and Molly (Linda Purl) Beaton have just celebrated their wedding and are off to start their life together as homesteaders. Headed for the Dakota Territory with a few dollars and plenty of enthusiasm, they proudly stake their claim and get to work. But the Beatons quickly learn that life on the prairie isn't always easy and they must endure everything from harsh winters, to the birth of their first child, to a swarm of grasshoppers—all without the help of their families. With strong wills and support from each other, they won't give up hope, even when the going gets tough.
Dove Review
Here is a remarkable and inspirational story cut out of the same cloth as "Little House on the Prairie". In fact the producer, Ed Friendly, was a producer on "Little House on the Prairie". The cast features superb performances from a young Linda Purl as Molly Beaton and Roger Kern who plays her husband Davey.
They get married in the beginning of the story and head out immediately for Dakota and the prairie to work their newly claimed land. Their wedding night is spent on a train. The young devoted couple work hard and soon Molly informs David a child is on the way. They experience hardship as well as the good times, a hardship that includes putting a horse out of its misery when it breaks a leg and a glorious crop being swarmed by grasshoppers. Their family is far away and when Davey has to take a job in another state Molly refuses to move in with anyone else as Davey suggests in a letter, and she stares death in the face the following winter with food running low and no fuel for the fire.
This movie may be a bit intense for the very young but we are pleased to award it our Dove "Family-Approved" Seal for all ages and five Doves, and that represents our best rating. It features themes of perseverance and devotion.
Content Description
Violence:
A shot is heard as a horse with a broken leg is put out of its misery; a woman holds a shotgun on a couple until she realizes they mean her no harm; it's mentioned that a man was killed while protecting his claim;
Violence:
A shot is heard as a horse with a broken leg is put out of its misery; a woman holds a shotgun on a couple until she realizes they mean her no harm; it's mentioned that a man was killed while protecting his claim;
Info
Company:
Echo Bridge Home Entertainment
Reviewer:
Edwin L. Carpenter