Heavenly Christmas Classics
DVD Release:
October 10, 2012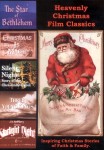 Synopsis
This vintage holiday film collection includes six short Christmas films of a religious and spiritual nature released on DVD for the first time ever. Two tell the Nativity story, two recount the creation of the Christmas carol "Silent Night" in 1818, and the other two tell inspiring stories that take place during the holiday season.
1. Silent Night: Story of the Christmas Carol (1953) Beautifully told true story of how Franz Gruber created the iconic 1818 Christmas carol
2. Christmas is Magic (1953) Robert Hutton plays a war veteran with amnesia who is taken in by widow Frances Raferty and her son on Christmas eve.
3. The Star of Bethlehem (1956) Story of the Nativity told using the silhouette animation style of Lotte Reiniger.
4. Three Young Kings (1956) In Latin America 3 young boys dressed as The Three Wise Men carry Christmas gifts to the Mission children, stirring a crisis of community conscience over the true meaning of giving.
5. Star of Bethlehem (1954) Produced, directed and starring James Mason. A heartfelt, inventive and personal telling of the Nativity birth of Jesus story enacted by a cast of children, with Mason's daughter Portland Mason as Mary, and Jerry Mathers as Joseph
6. Starlight Night (1939) Opulent British docu-drama about the creation of the famous Christmas carol centers on a stern father estranged from his daughter.
Dove Review
This collection of black and white vintage film brings to light the themes of Christmas. Two of the stories involve the beloved song of Christmas, "Silent Night." One that relays the history of its origin, how it came to be written, put to music and spread thought the world. The other of its connection to a family that inspired the song and reunited a family torn apart.
Then there are two stories that narrate the wondrous tale of the Christ child's birth. One that is a narrated reading and illustrated by shadow animation and the other is a narrated version read by James Mason and then portrayed as a play with young children in the roles of the Biblical story that is read every Christmas around the world. The last two films in this charming collection are of miracle stories that happened in the Christmas season. One of a mother and child that meet a vet of the world and help him remember the Christmases of his past to make a rejoicing time for all involved. The other is a story of Latin America in which 3 young boys show the real meaning of Christmas in their small village. This DVD will entertain young and old alike in the black and white format that shows many different facets from days gone by. We are proud to award this collection the Dove Family Approved Seal for all ages.