Elephant Sighs (CBA version)
DVD Release:
September 1, 2014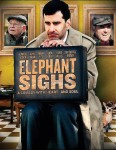 Synopsis
After moving to a small rural town, uptight Joel Bixby (Tony Award-nominee John Cariani), is invited by an agreeable new acquaintance to join a group of townsmen who meet in a ramshackle room at the edge of town. Normally a loner, Joel finds himself enamored by boisterous fast-food connoisseur Leo Applegate (Emmy and Golden Globe winner Ed Asner) and reluctantly agrees to go. Unknowingly the replacement for a beloved member who recently passed away, Joel meets the group's other surviving members and is swept into their strange lives, but struggles with their secretive purpose for gathering until he realizes each of them is as lost as himself.
Gleeful Dink (Jack Kehler, "Men in Black II," "The Big Lebowski"), who deeply loves his bald wife, is in touch with his feminine side; Perry (David Wells, "Basic Instinct," "Beverly Hills Cop") is a former minister suffering a crisis of faith; and volatile Nick (Mark Fite, "Fight Club," "Godzilla"), who lost his job and family, seeks a miracle. As the men grapple with their worries and unraveling lives, Joel finally learns their mysterious purpose in this off-beat comedy (based on the hit play) about the healing power of friendship.
Dove Review
This movie is about several elderly men attempting to get Joel Bixby involved socially, but Joel is a loner and doesn't seem to fit in. The title refers to the adage that when an elephant sighs, only another elephant can hear it. In this case the other elephant is Leo Applegate, played by well-known actor Ed Asner. Leo tries to help Joel, but ultimately realizes that a leopard's spots can't be changed. In fact, the other men, Perry and Dink, are unique individuals as well and they seem to have found their places. Although he doesn't know it, Joel is searching to fit in as well.
Perry was once a minister but wasn't sure of his calling and was asked to leave by his congregation. The other members of the group welcome him and constantly ask him to pray; he tells them he sells insurance now. Themes in the movie include that everyone has painful moments in their past, and that everyone should have a peer group with whom to open up and share. Faith in God is demonstrated in the movie, and one character prays for the others. A Bible study guide by Tyrell S. Rice accompanies the film. It is designed for men and features the opportunity for men to discuss various situations in their lives. We are awarding the movie our Faith Based Seal. "Elephant Sighs" is a unique movie filled with distinct humor, and will speak to viewers with painful and awkward moments in their pasts.
Info
Company:
Green Apple Entertainment
Industry Rating:
Not Rated
Reviewer:
Edwin L. Carpenter