The Seven Year Hitch
DVD Release:
March 5, 2013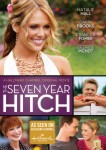 Synopsis
Jennifer (Natalie Hall) and Kevin (Darin Brooks) have been inseparable since becoming best friends at age six. So when Jennifer graduates from college and begins building a career in charity, she thinks it's only right to let drop-out Kevin live in her newly purchased house until he gets back on his feet. Seven years later, Jennifer is continuing up the career ladder while Kevin is still golf caddying and waiting for his big break. Jennifer is happy to let Kevin march to his own beat, but her new boyfriend, arrogant corporate manipulator Bryce (Ryan Doom), wants her to kick Kevin to the curb. Oblivious to his cheating ways, Jennifer is ecstatic when Bryce asks her to marry him after only six months of dating, secretly using her angelic reputation to gain favor with his boss Mrs. Von Hoffman (Frances Fisher). Kevin catches Bryce cheating and is determined to spare Jennifer an unhappily ever after experience. With a little help from his brother who is in law school, and support from his meddling neighbor Mr. Henderson (George Wendt), Kevin finds out he is legally married to Jennifer in a common law marriage after living together for exactly seven years. Now it's up to Kevin to prove he is Jennifer's equal – forever.
Dove Review
If you need a funny comedy to cheer you up, here is one for you and the entire family. For some people relationships start at a very young age and grow into a very special connection. This story is about Kevin and Jennifer who are friends from the first moment they met. Now grown but room-mates they have been together for seven years in the same house. Neither one realize their true feelings until Jennifer accepts the proposal from her boyfriend of only six months.
As Kevin tries to keep things the same in both their lives, he tries to prove they are in a common law marriage. The hilarity begins as Jennifer tries to get him to relinquish that thought with everything she possible can. But the two of them are in for a shocking surprise about love that they did not know existed.
This is a family comedy that everyone will enjoy that shows that true love prevails. The Dove Seal for all ages is awarded to "The Seven Year Hitch".
Info
Industry Rating:
Not Rated