Pop Star Puppy (Manuscript)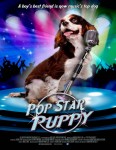 Synopsis
A dog that can…sing? When a departing soldier buys his son a dog the son is happy but when he learns the dog can sing, he is overjoyed! Will the dog become the next idol of America?
Dove Review
Here is a unique story which is wholesome with a different kind of plot. A dog named Dino is bought by a soldier named Andrew for his son Austin. Andrew is headed back to Afghanistan until Christmas and wants to give his son something to cheer him up. Little does Andrew or Austin know that Dino has a gift…he can sing and he sings great! If Dino can learn to sing in front of others instead of just in the shower or behind a curtain, he has enough talent to appear on the American Pop Icon show.
Is it possible that Dino will be the next idol of this popular American show? And, if a man named Frank has his way, will Dino be swiped from Austin for Frank's own selfish purposes?
This original story makes use of the imagination and is about a boy's best friend, his dog, while his dad is away. The themes include friendship and courage. We are pleased to award this script our Dove "Family-Approved" Seal for all ages. If the content remains the same for a movie, it would be a terrific family story. We hope to review the movie when it is made!
Content Description
Language:
OMG-3; Bloody dog-1; Butt-1; Moron-2; Idiots-1; Shut up-2; Stupid Dog-1; Son of a...(Not finished)-1; Holy Shnikies-1