Genesis 7: Episode 7 – The Storms of Jupiter
DVD Release:
February 12, 2013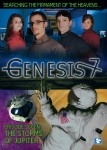 Synopsis
Donton puts his piloting skills to the test as he navigates Little G into the largest storm in the solar system and the greatest danger the crew has ever faced on a mission. Restless to tackle The Storms of Jupiter, Enoch, Priscilla, and Genesis Command breathlessly watch while Donton launches his hand-built hurricane dropsonde into the eye of Jupiter's great red spot. Determined to discover unprecedented information about a planet that some evolutionists say contains alien life, Donton descends into the storm to collect audio, video, and air samples. What the Genesis 7 crew doesn't know is that a corporal back at Command has been meddling with flight paths that could threaten the entire mission.
An entertaining series that follows a trio of space explorers through a year-long journey to fuel their program's mission of bringing glory to God beyond the firmament of the heavens, Genesis 7 is produced by the Christian filmmakers at Iachod Visuals, the team behind the documentaries The Heavens Declare, The Heavens Declare 2: Beyond the Milky Way, and The Young Sun. Bonus educational materials include vocabulary and maps related to Jupiter.
Dove Review
The "Genesis 7" series is an adventurous journey into the Heaven that God created. This series combines education and faith into a journey that everyone will enjoy. As two young cadets join their uncle on a space travel of the solar system, they relate a connection of their faith and God's word to the adventure they embark on.
The group in episode 7 are traveling to the planet of Jupiter. This adventure is without incident from the mole that is trying to sabotage the mission but wait, you might see an insight into who or which it is that may really be back on Earth. Once again the team shows their faith and the benefit of team work. The "Genesis 7: Episode 7" DVD is awarded the Dove "Family-Approved" Seal for all ages.
Info
Company:
Bridgestone Multimedia Group