A Wobots Christmas
DVD Release:
December 12, 2012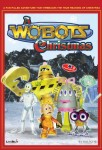 Synopsis
Zak, a lonely orphaned boy, hates the holidays and is sent out to return a defective "wobot." Unknowingly, Zak has set out on an exciting holiday adventure that leads him to Scraptown, home of the misplaced and forgotten. Befriended by a misfit group of mismatched "wobots", he learns of Boggin DeMoto's evil plan to take over the city on Christmas Eve. Zak and his new friends work together to thwart the wicked Boggin, save the orphans and keep Christmas alive. Join Zak and his "wobot" friends as they discover the true meaning of Christmas and learn that sometimes what makes you different is what makes you special.
Dove Review
" Wobots Christmas " is a cute animated story of one young boy who is different and has no idea what the real meaning of Christmas is until he finally makes friend with some robots there are not perfect either. The little group wanders into a garage that is occupied by a robot that opens all their eyes to the wonderful story of The Babe in the Manger.
This is a tale about being different but the most important lesson is that we need to all love each other and work together no matter what our difference are because that is what Christmas is all about, the love God has for us. He sent His Son and we are never alone even if we are different. This DVD is awarded the Dove "Family-Approved" Seal for all ages.
Info
Company:
EchoLight Studios