Clockmaker
DVD Release:
October 9, 2012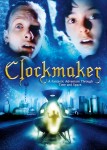 Synopsis
Henry, Devon and Mary Beth are totally creeped out by their eccentric neighbor, Mr. Markham, who has a large collection of clocks and a strange way of always knowing exactly what's going on. When Mr. Markham drops his key one day, the kids decide to snoop in his apartment. It's no surprise that they find tons of clocks inside, but these aren't ordinary time pieces—they're the gateway to the future! With a time machine now at their disposal, these three friends are about to embark on a crazy adventure they'll never forget.
Dove Review
This movie about time travel is fun to watch…any old time! Mr. Markham is an eccentric man who lives in an apartment building on the third floor. One day he absentmindedly drops his key and some kids check out the apartment and discover, inadvertently, a time machine. The trip they make results in some major changes and they will have to make another trip to repair what damage has been done.
This is a great story about forgiveness and making wrongs right and we are pleased to award it our Dove "Family-Approved" Seal. Take a little "time" to see it soon!
Info
Company:
Echo Bridge Home Entertainment
Reviewer:
Edwin L. Carpenter