A Monster in Paris
DVD Release:
March 12, 2013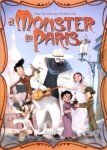 Synopsis
From producer Luc Beeson and Bibo Bergeron, the director of Shark Tale, comes the enchanting animated full-length feature film A Monster in Paris. Set in Paris in 1910, A Monster in Paris is the heart-warming tale of two friends and an oversized bug caught up in an unexpected adventure in the City of Lights. The film opens with panic sweeping the city as news spreads that a monster is loose! Emile, a shy movie projectionist, and Raoul, a colorful inventor, find themselves caught up in the hunt for a monster terrorizing citizens. They join forces with Lucille, the big-hearted star of the Rare Bird cabaret as well as an eccentric scientist and his irascible monkey as they attempt to save the monster, who turns out to be an oversized but harmless flea, from the city's ruthlessly ambitious police chief, the formidable Commissioner Maynott.
Dove Review
This movie has terrific animation and some interesting characters including Emile and Maude, who are in love. The Paris scenes are awesome and the creature that is accidentally created in an experiment is fascinating. The over-sized bug causes panic on the streets of Paris.
The action is plenty and the characters are delightful. We are pleased to award this movie our Dove Seal. We are awarding it our Seal for ages twelve plus due to a brief utterance of language. Give these monsters a watch soon and they will make your day!
Info
Industry Rating:
Not Rated
Reviewer:
Edwin L. Carpenter