Galahad
DVD Release:
December 25, 2012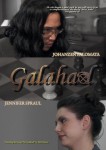 Synopsis
Galahad (Johanzen Palomata) is a wheelchair-bound savant who solves cases for the FBI without ever leaving his home. It's been 6 months since Galahad has heard from his contact at the FBI and 4 years since an accident claimed his family and left him a paraplegic. Forsaking his faith, Galahad has resolved to continue his life's journey alone. Unexpected circumstances land special agent, Heather Gray (Jennifer Spraul), on Galahad's front door with a case involving an autistic boy convicted of killing his girlfriend. It's a case too intriguing to ignore, which takes Galahad down a path that is destined to lead him out of darkness and back to God.
Dove Review
This movie features a great theme song called, appropriately enough, "Galahad" and it is imaginative just as the movie is. The film features fine performances from Johanzen Palomata as Galahad Stone and Jen Spraul as Heather Gray, a fellow agent. The movie focuses on Galahad, an intellectual man bound to a wheel chair. Galahad helps solve crimes for the F.B.I. and is challenged to read his Bible by Heather when she learns he loves literature and has read some books three times. Yet he hasn't touched his Bible in a while.
Galahad deals with issues of pain stemming from a tragic loss of two people in his life.
He works on a case involving a young autistic man named Danny who was accused of murdering a girl named Melissa. Galahad has a file of Melissa's on his computer which can help solve the mystery of her death if he figures out the password to open the file. This interesting story focuses on the help God can give and features themes of sharing one's life with others and moving forward despite setbacks. We are pleased to award this movie our Dove "Family-Approved" Seal for ages twelve plus.
Info
Company:
Magique Productions, Ltd.
Starring:
Johanzen Palomata
,
Jennifer Spraul
,
Andrew Mays
,
Phil Valentine
,
Danny Latham
,
Ace Gilliam
,
Mindy Krasner
,
Chelsea Unzner
,
Ashley Nunes
,
Di'ana Christine
,
Amanda Russell
Reviewer:
Edwin L. Carpenter