The Lost Medallion: The Adventures of Billy Stone
Theatrical Release:
March 1, 2013
DVD Release:
May 21, 2013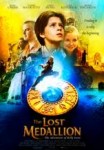 Synopsis
Limited Theatrical Release – When Daniel Anderson (Alex Kendrick – Courageous, Fireproof) visits a foster home to drop off donations, he's roped into telling the kids a story. Daniel weaves a tale about 13-year-old Billy Stone (Billy Unger) and his best friend, Allie (Sammi Hanratty), who uncover a long-lost medallion and wish themselves back in time 200 years.
Billy and his friends jump off waterfalls, sneak through caves, and battle their nemesis, Cobra, on an island from which they cannot escape, unless Billy discovers the key to reclaiming the powerful medallion and gains a new understanding of faith.
Dove Review
Kids will love this movie because if features children who emerge as the heroes of the story! Alex Kendrick, the actor and director of "Facing the Giants" stars as a story-teller named Daniel Anderson who shares a fantastic tale about a lost medallion with kids at a foster home. He features kids from the foster home in his story including Billy and Allie. They work together with an arrogant young king and an older man of wisdom played by James Hong.
The movie features bad guys and good guys and the magical powers of the medallion. Due to a few instances of violence we are recommending the film for ages twelve plus. The movie contains a nice theme of the benefits of working together as a team to solve problems.
Info
Company:
Bridgestone Multimedia Group
Producer:
Methinx and Downes Brothers Productions
Starring:
James Hong
,
Mark Dacascos
,
Billy Unger
,
Sammi Hanratty
,
William Corkery
,
Tiya Sircar
,
Hal Rudnick
,
Sidney S. Liufau
,
Marlowe Peyton
,
Jansen Panettiere
,
Allex Kendrick
Reviewer:
Edwin L. Carpenter