Surrendered: The Story of Jay Harding
DVD Release:
October 29, 2013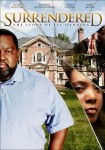 Synopsis
What would our lives look like if the unknown was seen before our tapestry was created?
A hardworking husband and father, Jay Harding views himself as a generous, loving and selfless man giving his all to make a great life for his family. But, he quickly discovers he's missed the mark and everyone around him views him as greedy, manipulative and selfish. On the brink of a destroyed marriage, a failed business and losing life as he knows it, Jay goes on a quest to prove that he loves and can provide for his family. On his journey, he learns that there is a result to every experience – right or wrong, good or bad. Jay Harding learns what happens if you're willing to let go of everything and choose to live a life Surrendered.
Dove Review
This film features good acting and realistic themes. Jay Harding is struggling in his marriage because he has put an emphasis on money and material things. His wife Kim badgers Jay at times but Jay does things like telling the kids to shut up when they sing Christmas carols. But he has a good friend who happens to be a Christian and he continually talks to Jay about finding peace in Christ.
This movie makes the point, and very well, that God can change a person's heart if he/she wants to change. It also shows that marriages can be worked on and if a spark remains between the couple that there is hope for reconciliation, even when it's been going bad. One great comment near the end of the movie is, "The grace one can experience from failure is greater than the pain."
Info
Industry Rating:
Not Rated
Reviewer:
Edwin L. Carpenter