Davey and Goliath: Volume 10
DVD Release:
December 19, 2011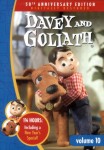 Synopsis
Who's George? Davey and Goliath learn about the saying "Let George do it" when they visit Jonathan. Six-Seven-Six-Three: Davey learns responsible pet ownership when Goliath is dog napped. The Zillion Dollar Combo: When Davey, Jonathan, and Mickey form a band, the boys much choose between a paying gig and performing for free at a children's hospital. Upside Down and Backwards: When Davey and Goliath are home alone and the electricity fails during a severe storm, Davey panics. Later, he imagines what he should have done. Louder Please: A deaf neighbor teaches Davey to appreciate all the sounds in the world around him. New Year's Promise: Sally and Davey have a New Year's fight, and Sally runs away from home thinking Davey doesn't love her.
Dove Review
The charming duo that aired on TV during the 60s and 70s is back with another collection of six episodes. As in all of Davey and Goliath series there are many lessons that are taught that can still be used no matter what generation the audience. Whether it is learning what it takes to be a pet owner or making choices on making money or doing something for free, Davey and Goliath show the viewer moral values. Generations may have changed but some of the same types of situations still happen in children's lives.
We are proud to award this DVD the Dove "Family-Approved" Seal for all ages.