Davey and Goliath: Volume 11
DVD Release:
February 20, 2012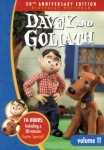 Synopsis
Ready or Not: Davey, Goliath, and Jonathan help clean up a park that has fallen into disrepair since Jonathan's last visit. Kum By Ya: When Davey gets angry with Cisco, the bell choir disbands until Pastor Miller reminds Davey that he has a responsibility to his friends. What's His Name: Davey learns the real meaning of forgiveness when he is falsely accused of wrongdoing. Pieces of Eight: Inspired by Treasure Island, Davey buries the Jickets' savings, but when a hard rain washes away the box, he must replace the box. Chicken: While playing "Follow the Leader", Davey breaks his leg and learns it's better to be called a "chicken" than to do something foolish. Happy Easter: Davey copes with the sudden death of his beloved Grandmother Hansen and learns why Easter is such an important celebration.
Dove Review
There are many collections of the beloved Series "Davey and Goliath"; this is volume eleven. As in all the episodes there are lessons and valuable moral topics that many generations relate to and will learn from. The cute duo takes children on adventures that encourage faith, doing what is right and friendship. Davey along with his talking dog, Goliath, always show the right way to handle different situations.
We are proud to award this DVD the Dove "Family-Approved" Seal for all ages.