Davey and Goliath: Volume 12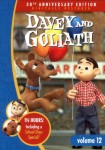 Synopsis
The Doghouse Dream House: After a rough start, Davey builds a doghouse for Goliath, whose original dog house was destroyed by storm. The Good Back Luck: Davey, Jonathan, and Goliath become lost on a school trip. Goliath, who is suffering from a cold, is unable to use his nose to lead them back to safety. The Watchdogs: Davey witnesses a robbery, but doesn't want to get involved until Officer Dan and Mr. Hansen succeed in teaching Davey the real meaning of the Golden Rule. Come, Come to the Fair: Davey's Sunday School class hosts a fold fair where the children learn about different ways cultures celebrate and remember Jesus. School… Who Needs It?: Davey and the Jickets rebel against going to school, but an understanding teacher shows them the value of school.
Dove Review
Children have many things that they deal with as they grow up. This charming collection of the lovable duo "Davey and Goliath" has and will take many generations through situations with faith, friendship and doing the right thing. Whether it is not liking school, understanding others different from themselves or helping others, Davey and Goliath lead the way to show how to overcome any problem that may arise. They will teach us all the moral values that are needed for old and young alike.
We are proud to award this DVD the Dove "Family-Approved" Seal for all ages.