Spirit of Love: The Mike Glenn Story
DVD Release:
March 15, 2013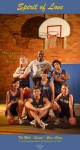 Synopsis
NBA player Mike "Stinger" Glenn plays himself in this wonderful film inspired by his real life Basketball camps for the Deaf & Hard of Hearing. In a unique casting deaf & hard of hearing, and hearing actors work together and deliver a film which is authentic, charming, competitive, and challenging.
Spirit of Love is a diverse coming of age story. A group of misfit teens arrive at the 33rd annual basketball camp, which is the first time girls will attend the camp. Some come with hoop dreams, while others are trying to survive tumultuous teenage angst. Alexi arrives angry and at odds with his Dad Coach Phil, while Ford wants everyone to know he's more than Deaf, and Maddie thinks everyone sees her as a freak. Not only do they learn life lessons through the game of basketball, they soon learn what it means to soar like Eagles, Win or Lose. Spirit of Love will Motivate, Encourage, Uplift and Inspire all audiences and leave you cheering.
Dove Review
This is a movie with a message, and a great one – that everyone has worth! This terrific film features NBA player Mike "Stinger" Glenn (he plays himself) and is about his Basketball camps for the Deaf and Hard of Hearing.
The teens in this story are portrayed as real-life people with real-life problems that have dreams they hope to make real. The various conflicts include a character that is having problems with his father and his anger over that fact and one girl, Maddie, believes everyone sees her as "different" or a "freak." As the misfits learn to play as a team they also learn about life and this inspirational and remarkable story just may have you cheering by movie's end! There are a few racists in the story but the main characters overcome nicely. We are pleased to award the film our Dove "Family-Approved" Seal for all ages although it might be too intense for the very young. See this one soon and it just may give you a spark when you most need one!
Info
Company:
Film It Productions
Industry Rating:
Not Rated
Starring:
Mike Glenn
,
Maddie Burkholder
,
Ford Eberlein
,
Alexi Taylor
,
Hunter Schultz
,
Darla Rae
,
Kirk Montgomery
,
Brad Hughes
,
Loz Lichty
,
Lizzie Feher Peiker
,
Louie Feher Peiker
Reviewer:
Edwin L. Carpenter