El Abuelo
DVD Release:
December 15, 2011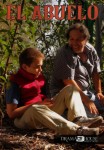 Synopsis
To communicate effective, there has to be the desire to communicate, and Nick, a 12-year old boy with high-functioning autism, doesn't seem to have anything he wants to say. He is fascinated though, with the old man who sells flowers and oranges on the street corner.
Nick journeys into a remote canyon where he has learned many immigrant workers live in a squatter's camp. It is there that he meets the old man, El Abuelo, the grandfather.
Over the course of the ensuing day and night, Nick will listen, watch and learn about lives very different from his own. He will come under the quiet spell of El
Abuelo, and perhaps he will finally find his voice.
Dove Review
This is an interesting look at a young man who is silent with autism but finds his voice in a miraculous way.
Young Nick is autistic and has only spoken once in the past. His father is a dentist and both parents care deeply for their son. One day young Nick wanders into a canyon and hurts his leg. Some immigrant migrant workers aid him, especially an elderly man called El Abuelo. This grandfather figure feeds young Nick beans and carries him on his back. El Abuelo shows Nick an outside church they have and he mentions the Virgin Mary wanted the church built. He is a man of faith who says he prays to God every day. When the police and Nick's parents arrive there is a moment of confusion. Did these workers help Nick or kidnap him? The ending might leave you a bit sad but it makes a strong point. How do we treat people who have shown a kindness?
Although this is a bit sophisticated for the very young, it is a wholesome short film which strongly makes its point. We are glad to award it our Dove "Family-Approved" Seal for all ages. This one will make you think!
Info
Company:
Drama House Productions, LLC
Industry Rating:
Not Rated
Reviewer:
Edwin L. Carpenter