Angel in the House
DVD Release:
March 26, 2013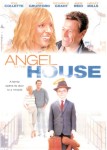 Synopsis
Struggling to adopt a child and unable to conceive one of their own, the Morrison family is in need of a miracle. However, their luck changes when a 7-year-old boy unexpectedly shows up on their doorstep. A heart-warming family tale, Angle in the House is sure to bring out the child in all of us.
Dove Review
If you believe in angels you know, as I do, they can come in all sizes. This wonderful British film is a story that many families in today's world may have experienced. It is a story about one couple, Alec and Zooey, and they want a child so badly but cannot have one and they cannot understand this tragedy. So they consider adoption.
When an unexpected young seven year old shows up at their house, their life changes. This is not an ordinary little boy, Eli is intelligent, funny, and charming all in one. He helps the two discover the things they need to find in their lives to have a family again. "Angel in the House" is a heart-felt movie of family and love. It will entertain the entire family. We are proud to award this film the Dove "Family-Approved" Seal for all ages.
Content Description
Language:
Crackie; a possible muffled s-word; Ba-gee-bers; "sweet Mary Mother" unfinished saying uttered.