Come the Morning
DVD Release:
June 11, 2013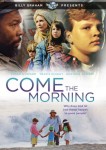 Synopsis
In this moving film, Constance Gibson (Susan Howard) and her three children are getting more then they bargained for. As they search for the father and husband who's abandoned them, they find themselves alone in a strange city, out of money and no place to stay. Special appearance by Billy Graham as himself.
Dove Review
This movie speaks to the heart! This film features fine actors in Susan Howard and John Schneider and is a realistic gritty story about a woman and her three kids that search for her husband and their father that left home to find work and now has not been in touch with them for some time.
They leave their Texas home and head to L.A. and soon the oldest son, Ben, dreams about his father and spots him on the streets, living among the homeless. He is gone by the time Ben gets there. Adding to the problem is that Ben's mother, Constance, is low on funds and then what little they have is stolen. They wind up in a flea-bag place with mice and cockroaches making themselves at home. The mom, Constance (Susan Howard), keeps her faith and prays but young Ben seriously doubts God's concern for them. However, despite their hardships there are signs of hope given to them along the way.
This movie is a moving film steeped in realism which should touch viewers everywhere. We are recommending it for ages twelve plus and we are pleased to award it our Dove "Family-Approved" Seal. See this one soon and you will appreciate all that you have.
Info
Company:
Wesscott Marketing Inc
Industry Rating:
Not Rated
Reviewer:
Edwin L. Carpenter