Monsuno
DVD Release:
January 8, 2013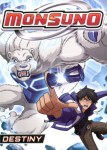 Synopsis
The MONSUNO series is an epic boys action adventure series where kids discover, command and battle creatures with tremendous destructive potential. When a race to harness the power of Monsuno ensues between a group of everyday kids and the evil forces focused on destroying the Earth our heroes spring into action to defend the planet. Built around powerful, action-driven animation, dynamic characters and a deeply woven original story mythology, MONSUNO provides a completely original entertainment experience.
They hurled through space eons before man existed. They burned through the planet's atmosphere and crashed into four corners of the world, bringing chaos, destruction and the extinction of the dinosaurs. And then, as suddenly as they appeared…they vanished.
Now, the Monsuno are BACK! And their rise will either spell the ultimate destruction of our planet or launch the courageous adventure of mankind's newest hero, the unpredictable teenager, Chase Suno!
Dove Review
This is a different animated series. Three friends, Chase, Ginga and Bren, are looking for Chase's father, a scientist who is missing. Along the way they find something they had no knowledge of, the Monsunos that Chase's father created. The Munsonos are creatures with extraordinary powers that many evil forces want, so they can take over the world.
Chase, Ginga and Bren each become a controller of their own Monsuno. This is a story of evil versus good. As the three continue their search for Dr. Gerard Monsuno they encounter many dangerous characters that try to stop them along with the guys from Storm. Every episode is a new but continuous adventure for the trio. I recommend this series for twelve and older because of the continuous fighting of these animal-like monsters that fight and may be frightening to younger children. We award the Dove "Family-Approved" 12+ Seal to this DVD.
Info
Industry Rating:
Not Rated