Disconnect. Reconnect.
DVD Release:
March 5, 2013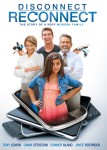 Synopsis
Mark Van Der Poole, his wife, and two teenagers all understand what being "connected" is all about : Twitter, Facebook, Cell Phones, iPads, GPS – their frantic lives are bound to gadgets too numerous to count! This noisy backdrop turns suddenly into awkward silence when a mysterious glitch brings the entire communications grid to a sudden halt! Sudden withdrawal from gadget-driven addictions force the Van Der Poole family together against their will, to face the best – and worst – in each other as they explore old fashioned fun, family, and faith. In the process, they rediscover the real connectedness they hadn't even realized they had lost.
Dove Review
This DVD shows very vividly that God can save anyone! Mark Van Der Poole is a hardened man when it comes to God. When Mark's son Conner becomes involved in working with a Christian man, and is open to his teaching, Mark refers to the "religious mumbo jumbo" and is not pleased. He even tells Conner's friend, Mr. Simmons, that he is "coo coo" and "looney" but still finds himself at church before long along with his wife Laurie, daughter Caitlyn, and son Conner. What happens at the close of the Pastor's sermon is inspiring and remarkable.
This film has its light-hearted and comedic moments as well. We are happy to award this movie our Dove Seal for all ages. This movie features a nice message too about getting away from technology from time to time to spend more quality time with one's family.
Info
Company:
Bridgestone Multimedia Group
Reviewer:
Edwin L. Carpenter