Love Free or Die
DVD Release:
April 9, 2013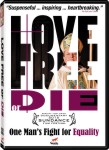 Synopsis
Love Free or Die is about a man whose two defining passions the world cannot reconcile: his love for God and for his partner Mark. It is about church and state, love and marriage, faith and identity-and one man's struggle to dispel the notion that God's love has limits.
In the film, Gene Robinson becomes the first openly gay person to be elected Bishop in the high church traditions of Christendom. Bishop Robinson's elevation in the sleepy New Hampshire diocese in 2003 ignited a worldwide firestorm in the Anglican Communion, one that has become so heated that there is still a chance of a schism in the 80 million-member denomination. One year after being muzzled by the Archbishop of Canterbury, he finds himself speaking from the steps of the Lincoln Memorial at Barack Obama's Inauguration. Gene Robinson confronts those who use religion as an instrument of oppression, and claims a place in the church and society, not just for LGBT people, but for all.
Dove Review
This is a controversial DVD for sure. There are not many people who take middle ground when it comes to the debate on homosexuality and its place in the church. Although conservative voices speak up in this documentary, it is slanted toward the acceptance of gay leaders in the church, a stand which many of our Dove conservative viewers will have a hard time swallowing. The DVD opens up in July 2008 with the Lambeth Conference in Canterbury, England, birthplace of the Anglican Church.
Despite Gene Robinson's likable personality, this DVD shows he and his "partner" Mark share a quick kiss, his blessing of lesbian couples, his walking hand in hand with his partner, and also a rebuke from a man while he is speaking, with the man telling him to "repent". Gene was the first openly gay Bishop in the Anglican Communion. Since Dove seeks to promote wholesome entertainment for the family, this particular DVD is certainly educational in various spots but assuredly is too controversial to be considered "family friendly" and many of our Dove faithful will take exception to its liberal views. Perhaps almost as troubling are scenes of Gene smoking cigarettes. We sadly cannot award this DVD our Dove "Family-Approved" Seal although we can certainly agree with the comment made in this film that God loves all people but not all our behavior.
Content Description
Sex:
Debate on acceptance of the homosexual lifestyle as a normal lifestyle; two men kiss and hold hands; another gay couple kiss; lesbian weddings; many disagreements over the acceptance of gay leaders in the church and the blessing of same-sex couples; many people state they are gay.
Language:
H (as a place)-2; A-1; P-1; People who don't accept homosexuality are referred to as "stupid" by one man; Slang for testicles-1
Nudity:
Shirtless men; men seen in just underwear as they march down street; children in swimwear; cleavage.
Info
Starring:
Biship Gene Robinson (as himself)
Reviewer:
Edwin L. Carpenter