Hang On To Jesus! Adventures: Jesus to My Rescue! (Illustrated)
Theatrical Release:
April 1, 2013
Book Release:
April 1, 2013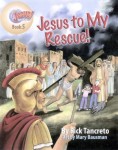 Synopsis
Hang On to Jesus! Adventures bring Bible truths to life for young readers. Children will discover God's character and kingdom through selected passages of Scripture and wondrous journeys with Jesus. Invaluable as part of an educational program, this series also includes teaching tools found on our website: www.LittleSaintsPress.com. Hang On to Jesus! Adventures will help children live out and defend their faith, as well as fall in love with their savior.
Dove Review
Here is a continuation of the previous book: "Hang On To Jesus! Adventures: Jesus Loves Me!" In this book Dee Dee and Ricky continue their journey with the Angel Gabriel to view Jesus' life. The story picks up as the men come to take Jesus away after Judas betrayed Him. Ricky and Dee Dee talk with Gabriel as he explains the rescue plan that started with the sin of Adam and Eve.
The children along with Gabriel at their side continue the journey to see the cruel punishment that Jesus endured to save us from our sins, the sins that everyone is born with but receive forgiveness through faith because of the blood of Jesus' death. This is a wonderful illustrated book that will help children understand the gift of salvation that can be enjoyed by everyone through faith. We are proud to award this book the Dove "Faith Friendly" Seal for all ages.