Pivot Point
DVD Release:
August 14, 2012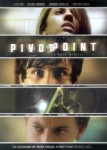 Synopsis
Pivot Point…is the moment where you make a life changing decision that dramatically alters your future.
This psychological drama follows four high school students on their journey to adulthood discovering their Pivot Point. Starring Levi Cox and Alexis Hughes, this motion picture depicts a collage of teenage life filled with school, classmates and book reports.
Each consumed with their own thoughts and dreams they soon discover that their lives are interconnected in ways they never would have imagined with devastating consequences.
A school shooting erupts, confusion and guilt flood the minds of everyone. What could have been done to prevent this?
Dove Review
"Pivot Point" dramatically and fairly graphically shows what can happen when decisions are made. The pivot point is that moment when our decisions lead us toward a destiny and it can be good, based on the decision, or it can be bad. Lucas is a young high school student that lives with an abusive father, a mother who doesn't understand, and a younger sister that he does love. There is tension in the home and constant fighting between his mom and dad. Tyler Danyla does a very good job in portraying Lucas and his inner turmoil. In other plots a young teen named Candice candidly discusses the fact she had sex with her boyfriend and thought at one point she was pregnant. Another girl admits she has had sex too, saying she was really nervous her first time. The movie features a subplot with a man who was molested by a neighbor when he was younger, struggles with porn on the internet and has homosexual tendencies which frightens him.
This film features depressing moments in spots and includes an accident and the death of two characters. Yet the ending does show that we can change, we can keep hope alive, and it all comes down to our decisions, and our pivot points. Unfortunately, due to a few bloody scenes and frank sexual talk, we are unable to award "Pivot Point" a Dove Seal.
Info
Company:
Bridgestone Multimedia Group
Industry Rating:
Not Rated
Reviewer:
Edwin L. Carpenter